Today was a very uneventful day.. I went to the gym again, as promised, I surfed the net, downloaded Arashi videos, checked plurk, multiply and facebook. Then I played the facebook game I've been getting into lately --- TYPING MANIAC. I'm not really the fastest in typing (I mean, Cel has like a million points and it took all that I have to get my high score -- 350k points) but I do think I'm faster than the average person. :P And I'm also trying to improve my score everyday --- I'm aiming to get a million points someday!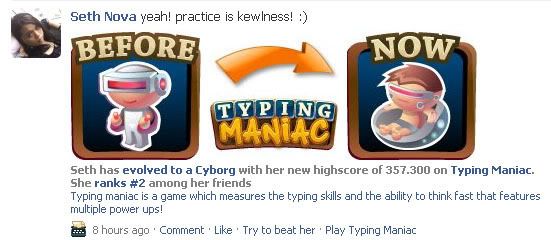 I'm improving everyday! Keep it up, Sesu! :)



I'm not one to put any effort in most things like games.. I do at first, but I always think that I don't have the skill to be one of the best in them. I just really don't want to put much effort into something that won't produce significant results --- but that thinking is wrong.


"The most common reasons we procrastinate is fear that the end result won't live up to the "perfect" idea in our heads."

Simply put, I don't want to work hard on it because I don't think I'll be able to get over the high bar I put there myself. I'm so afraid of failure, I just stop trying. I end up doing nothing. But we all know that doing something is better than nothing, so my mantra these days now is ---

"Never be afraid of failure. Failure is a also one step towards one's goal."

Though it's my mantra, I must admit that the mantra itself is a tall order, but I won't be able to get anywhere without having such a goal. :)

Gambare sesu~ :)

------
Sidestory: The Last of Jatropha

I'm finally doing my final experiment run for my thesis transcript! I brought it home since it's really troublesome to go to elbi and back.. :P



Using makeshift stuff to finish the experiment :P
Yeah, I was totally watching Arashi (Mago Mago Arashi.. that's Aiba-chan and Sho-chan on the screen) while doing my experiments.And yeah, I had some Lumpiang Shanghai on the side. XD